Restoration by Peter Schichtel
For the better part of four decades, RPS has been providing high quality wood working and furniture repair and restoration. We offer a broad spectrum of capabilities, from minor furniture repairs to the complete design and building of custom
furniture, wall units, and libraries.
Specialty work includes the preservation of fine and valued
antiques, from investments to family heirlooms. This focus makes us uniquely qualified to handle a variety of wood working tasks.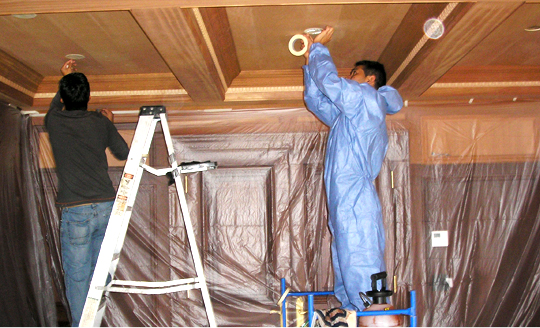 Our craftsmen employ a broad range of skills in their work, many of which have been long forgotten. The arts of joinery, inlay, veneer
application, carving, and lathe turning are all a part of our daily operations. The demands of accurate recreation or preservation of hand applied finishes finds us using many talents and techniques not found in most wood working shops.
Although recent projects have included Woodrow Wilson's pool table, Cole Porter's piano, and General Douglas McArthur's desk, you are more likely to find Grandma's sewing stand in our shop. Nothing is too small or unimportant.
Our unsurpassed furniture refinishing capabilities have made us a leader in the New York area. Whether it is an 18th century music box, or a modern 36′ corporate conference table, we've done it.
We are not limited to residential work. Since our doors opened in 1989, we have brought continuing high quality service to hotels such as The Waldorf-Astoria, The Hilton at Short Hills, The Plaza, The Drake, and many more. Other commercial clients include Cendant Corporation, Unilever, Johnson and Johnson and most recently Realogy.
If you have any questions about what we do best, what we do most, or what we plain enjoy doing, please feel free to call.
Or Contact us Here.